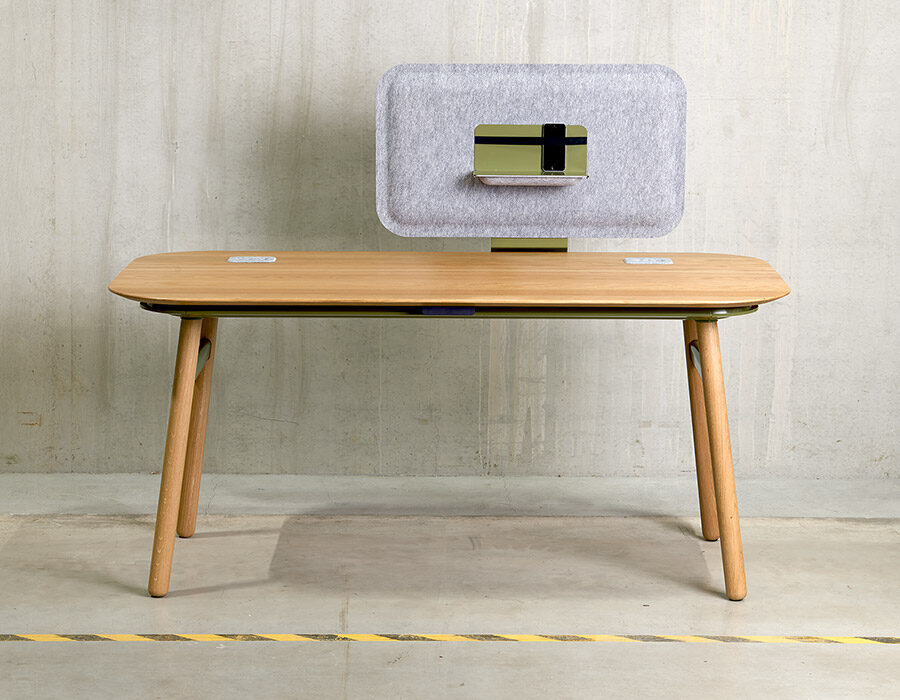 Trailo
Office Table Program 4.0

TRAILO is an office table program with a wide range of accessories.
The centrepiece is the REISS SCHIENE™️, a sheet metal profile positioned under the tabletop that accommodates various types of table legs, but also a variety of add-ons. Some of these add-ons – acoustic panel, document tray and monitor holder – can be moved freely along the REISS SCHIENE™️ via a trolley. No tools are needed to assemble and move the add-ons.
The product is designed in such a way that it can be produced on an Industry 4.0 system in batch size one.
Assistant: Ludwig Kaimer
Trailo
Office-Tischprogram 4.0

TRAILO ist ein Office-Tischprogram mit einer breiten Palette an Zubehör.
Kernstück ist die REISS SCHIENE™️, ein unterhalb der Tischplatte positioniertes Blechprofil, das verschiedene Typen von Tischbeinen, aber auch eine Vielzahl von Zubehörelementen aufnimmt. Einige dieser Elemente – Akustikpanel, Dokumentenablage und Monitorhalter – lassen sich über einen Schlitten frei entlang der REISS SCHIENE™️ bewegen. Für die Montage und Handhabung der Zubehörelemente sind keine Werkzeug erforderlich.
Das Produkt ist so konzipiert, dass es auf einer Industrie 4.0-Anlage in Losgröße Eins produziert werden kann.
Projektassistent: Ludwig Kaimer