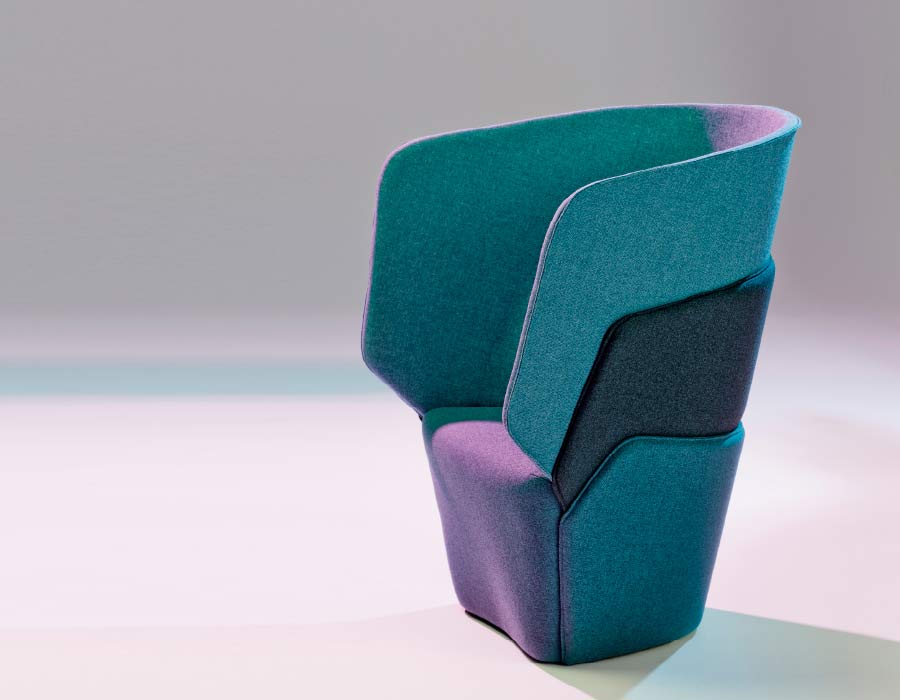 Layer
Spatial layers
LAYER is a poetic piece of furniture: several padded layers are curved and stacked over each other to form a seating object. With their rounded contours, the layers suggest the petals of a flower. The padded layers of the chair form a modular structure which lends itself very well to the building of a product family. The first layer on its own forms a stool. By adding a second layer, a classic easy chair is created, and an additional third layer makes an easy chair with a high backrest. In the version with three layers, the easy chair creates a self-contained and intimate space for the sitter. The single layers comprise different types of fabric, and can be just one colour or multi-hued. There are ample possibilities for variations on this chair by using different fabric and colour combinations. This, combined with superior seating comfort, allows for a wide range of uses in the contract and home furniture fields.
Assistant: Rahel Andres

Layer
Räumliche Schichten
LAYER ist ein poetisch anmutender Sessel. Mehrere, räumlich gewölbte und ineinander geschichtete Polsterlagen bilden den Sitzkörper. Mit ihrer sanft geschwungenen Kontur erinnern die Lagen an die Blätter einer Blüte. Zudem ist LAYER ein modulares Konzept. Die Polsterlagen markieren die verschieden Elemente einer Produktfamilie: Die erste Lage für sich genommen formt einen Hocker. Das Hinzufügen der zweiten Lage ergibt einen Sessel mit niedriger Rückenlehne, das Aufsetzen der dritten Lage einen Sessel mit hoher Rückenlehne. In der dreilagigen Ausführung generiert der Sessel einen Konzentrationsraum für den Sitzenden. Die einzelnen Lagen können einfarbig, mehrfarbig oder in unterschiedlichen Stoffqualitäten ausgeführt werden. Die vielen Interpretationsmöglichkeiten durch verschiedene Stoff- und Farbkombinationen und der besonders gute Sitzkomfort erlauben einen breitgefächerten Einsatz im Objekt- und Wohnbereich.
Projektassistent: Rahel Andres