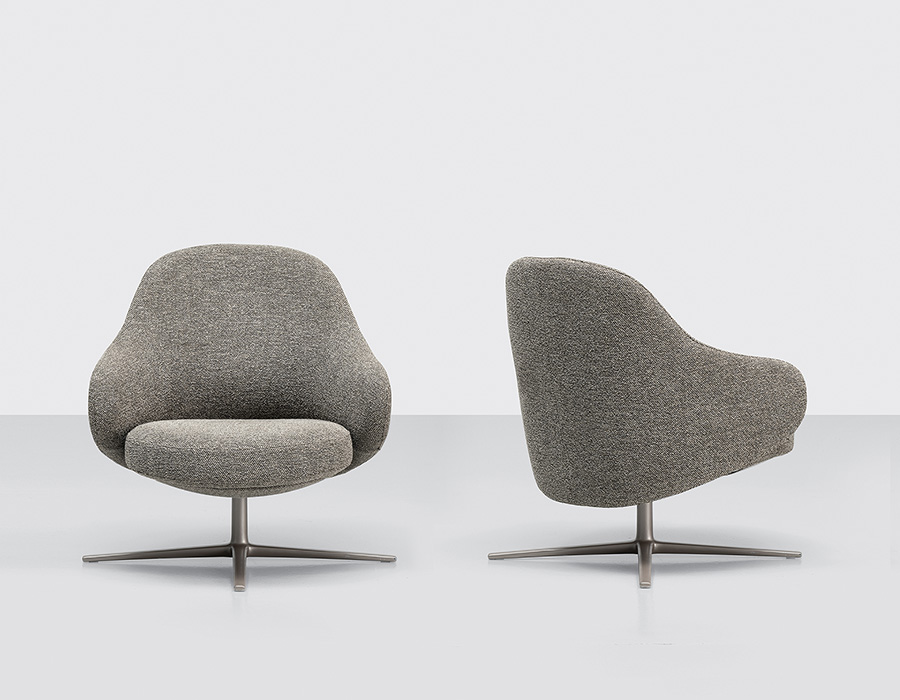 DUA LOUNGE
Lounge Chair with low backrest
DUA RELAX and DUA LOUNGE are the latest results from the DUA FAMILY.
The development of this product family started in 2017 with a new and fruitful collaboration with the Italian design label KRISTALIA. DUA RELAX is the most representative member of the DUA family. The emblematic, finely curved backrest embraces both seat and owner in a gentle and playful way. The seat is made of a large, soft cushion which – together with the carefully designed inner shape of the backrest – offers maximum seating comfort.
DUA LOUNGE is the little sister of DUA RELAX. Like a friendly pal DUA LOUNGE offers great comfort and a warm and relaxed atmosphere.
DUA RELAX and DUA LOUNGE can be perfectly combined with other members of the DUA family.
Videos MAKING OF DUA RELAX & DUA LOUNGE, DUA RELAX, DUA LOUNGE
Assistant: Ludwig Kaimer, Kasimir Göller, Felix Landwehr

DUA LOUNGE
Dua Lounge mit niedriger Rückenlehne
DUA RELAX und DUA LOUNGE sind die jüngsten Ergebnisse aus der DUA FAMILY.
Die Entwicklung dieser Produktfamilie begann 2017 mit einer neuen und fruchtbaren Zusammenarbeit mit dem italienischen Designlabel KRISTALIA.
DUA RELAX ist das repräsentativste Mitglied der DUA-Familie. Die zeichenhafte, fein geschwungene Rückenlehne umarmt Sitz und Besitzer auf sanfte und spielerische Weise. Die Sitzfläche besteht aus einem großen, weichen Kissen, das – zusammen mit der sorgfältig gestalteten Innenform der Rückenlehne – maximalen Sitzkomfort bietet.
DUA LOUNGE ist die kleine Schwester von DUA RELAX. Wie eine freundliche Kameradin bietet DUA LOUNGE großen Komfort sowie eine warme und entspannte Atmosphäre.
DUA RELAX und DUA LOUNGE lassen sich sehr gut mit anderen Produkten aus der DUA-Familie kombinieren.
Videos zu MAKING OF DUA RELAX & LOUNGE, DUA RELAX, DUA LOUNGE
Projektassistent: Ludwig Kaimer, Kasimir Göller, Felix Landwehr